It's spring, and we have several really cool events lined up for you to watch live and from home!
Want to learn about how the world is being disrupted?
In May, don't miss out Jay Samit, Serial entrepreneur and disruptor who will talk about his book disrupt you, and explain how to seize opportunities in this era of endless innovation. Jay is the real american entrepreneur…
Get your seat here
Sponsors for this event – visit our sponsors websites (Use the coupons code below to get a FREE seat e.g. LIFEGENIE offered by True Life Genie)
| | | | | | |
| --- | --- | --- | --- | --- | --- |
| VC Firm | Innovation Consulting | Entertainment law | Market Research | ecommerce for novel and startup products | Healthcare Medical Blog (Australia) |
| | | | | | |
| SPRUCENORTON | FUTURE | ASKMUSICLAW | CGRSS | LIFEGENIE | MEDSTARTUP |
Want to learn about how to manage innovation in big firms?
In June, we are very lucky to be able to bring to you Chris Kalaboukis , author and CEO of a full stack innovation consulting company from San Francisco (the world's most innovative place…) who will also talk about his book "Innovation mastery: The definitive guide to running the ultimate innovation program" and explain what it takes to drive a culture of innovation in a corporation and to compete with start-ups and keep the pace of innovation. Chris is amazing! you will see…
Get your seat here
Why participate?
We strive to bring to you the brightest, sharpest, most talented minds that will inspire you and help you navigate the industry 4.0: Don't get fooled, many things are changing in the world right now, it's a new game, the technological and digital evolutions are more revolutions than evolutions.
The world is innovating at a blistering pace, and many industries will be challenged as new industries see the light.
Connect with us and stay ahead of the curve…
In our events we talk about the impact of key technology emergence and discuss how the future may look like for both consumers and businesses.
And if all of this was not enough…
We are piloting a 5 days short course based on the start-ups innovation book (Take it and please provide feedback…)
Take the free course here
Get your copy of our ebook here
The book covers the key steps to launch a start-up, a very good place to start to get a full feel of the entrepreneurial world…in a very short amount of time!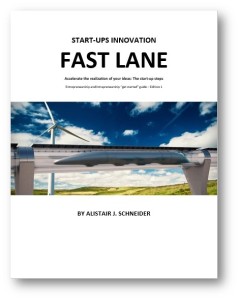 See you soon, superstar innovator! More is coming up so stay tuned!
[newsletter]