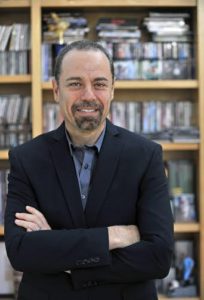 "Great ideas, attract great minds" – Jay Samit
Jay Samit, one of the world's leading expert on innovation and disruption and author of best selling book (Disrupt You – Master Personal Transformation, Seize Opportunity, and Thrive in the Era of Endless Innovation) talks for startupsinnovation.com (Fast Lane Innovation webinars series) about the opportunities and challenges that people, companys, countries are and will be facing now and in the future. How many industries are being and will be disrupted, which ones and how this impacts all of us and requires us to change the way we think and do things: In our lives, for our careers and for our sustained or increased success in general.
Note: This video is for educational purposes only – Do not use what is discussed herein to make investment decisions without seeking the advice of a Financial & investment advisor.
Enjoy this information!
Get the book here!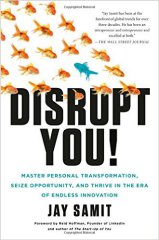 Disrupt You!: Master Personal Transformation, Seize Opportunity, and Thrive in the Era of Endless Innovation
Disrupt you! authored by Jay Samit offers empowering advice for anyone looking to break through; for anyone with a big idea but with no idea how to apply it. This engaging, perspective-shifting book demystifies the mechanics of disruption for individuals and businesses alike. It incorporates stories from his own experience and anecdotes from other innovators and disruptive businesses-including Richard Branson, Steve Jobs, Elon Musk, YouTube, Cirque du Soleil, Odor Eaters, Iams, Silly Putty, and many more. Samit shows how personal transformation can reap entrepreneurial, professional & economical rewards.
Partners for this event (Thanks for the help on the promo):
Topics we covered during this presentation / talk:
About Jay Samit, how he worked with Bill Gates, Bill Clinton, Reid Hoffman
What is disruption
Disruptor vs. Disrupted
Impact of disruptive Tech
Collaborative economy
Acceleration of Innovation
Future for 9-5 Employees / Careers
Corporations vs Startups
Equity crowdfunding
Knowledge economy
Value chain innovation
Overcoming waste in "R&D"
Networking, mentorship
Implementation
Jay's Vision for the future
Industries / technologies we touched on:
Transportation
Hyperloop
3D Printing
Entertainment
Virtual / Hyper / augmented Reality
Energy
Big Data
Medical
Consulting
Finance
Banking
And more…
Enjoy, comment, share and partner with us on our next events. Better, bring one of these events in your organization, group or community!
Quotes from the webinar:
""You suddenly realise big ideas attract big minds. The first thing is to figure out how you can solve problems for others and that will attract success" Jay Samit
"The best time to start your business/launch your idea was last year, the second best time is now" Jay Samit
Follow Jay Samit:
Web: Jaysamit.com
Twitter: @Jaysamit