Very excited to bring to you another insightful webinar with one extra-ordinary and hard working individual: Chris Kalaboukis.
He talks with us about his new book, shares his experiences and expertise on corporate Innovation, intrapreneurship and his views on the future and the importance of leadership and how the era of intense innovation is changing expectations towards employees.
Chris, is a serial entrepreneur, inventor of hundreds of products, has his name on 60+ patents and has hundreds more pending. He is the author of Innovation Mastery: The guide to running the ultimate innovation programs. He comes from the #1 most innovative region in the world: San Francisco area.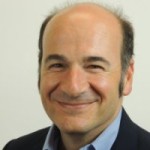 Scroll down below the video to learn more about Chris and what we covered during this event. You will also find the links to the books mentioned during the talk.
Enjoy this replay, make sure you also watch our other ones and don't hesitate to share with your team: A good start to driving the right behaviors that will help innovating!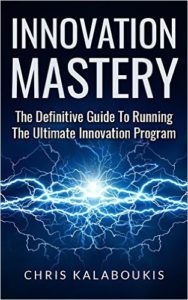 INNOVATION MASTERY: The Definitive Guide To Running The Ultimate Innovation Program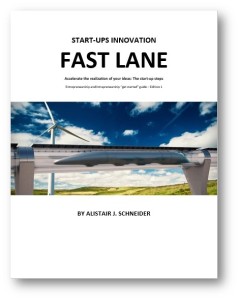 Innovation Fast lane: Start-up tools and mindset for anyone wishing to learn about these new (lean) ways of launching ideas / resolving problems
Zone to win (Geoffrey Moore):
Zone to Win: Organizing to Compete in an Age of Disruption
About Chris Kalaboukis
Prolific inventor (51 issued patents and 113 pending primarily in social networking and media – many of which, patented up to 7 years ago, are now seeing true product development)
Exceptional innovator (launched and headed internal innovation programs at Yahoo, Walmart & Citigroup
Invented products for all of the above corporates)
Experienced technologist (developed and launched a multitude of apps in everything from Ruby to C#)
Serial entrepreneur (led a number of startups from inception to launch)
A practical futurist (launched and ran corporate futurist programs envisioning far forward products and services).
People mentioned during the talk:
Elon Musk, Steve Jobs, Mark Zuckerberg, Black Eye Peas, X-men and many more!
Visit Chris's website: 

Topics covered during the event
– About Chris, Hellofuture, his patents, work at Yahoo, CITI, Walmart, BNP
– His book: Innovation Mastery, running the ultimate innovation program
– Corporations success / failures example
– How to unearth innovation and innovators
– Do you really need skateboard ramps and jacuzzi meeting rooms to drive an innovation friendly environment
– How the era of endless innovation is changing employee's expectations and recruiting of new hires and leaders – what you may need to have as a resume line going forward
– Tips to run a workshop that fosters creativity and new ideas
– Chris K's views on "The zone to win" Geoffrey Moore's new book that proposed the new way of running businesses in the era of disruption
– Start-up tools in the corporations: Leaner than lean?
– Corporations and Startups mingling: How to make it work
– Measuring innovation: How to..
– The power of serendipity (and what it is…)
– Homo Superiors
– Vision of the future (Note the slide says 2020 but should say 2030+…sorry)
– Q&A
Comments
comments